Choosing The Right Virtual Platform For Your Event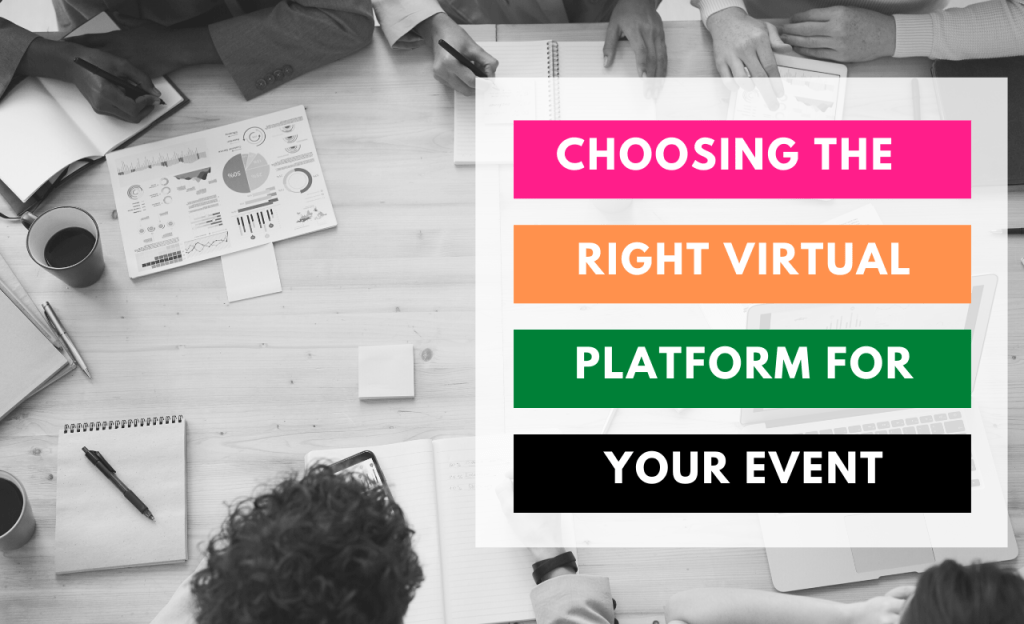 During every industry event these days you hear the same question: "How do I choose the right virtual tool for my event?" As a planner myself, I get it. With over 800 event tech platforms to choose from, the choices are inundating, so how do you understand which one is best?
Focusing on purposeful and practical first is always an aim that you should strive for when selecting the right virtual platform. Because usually overwhelming situations can be fixed with the simplest solution. In order to figure out what is the best platform, here are some key questions to ask and essential elements to consider.
What is the purpose of my event?
Focusing on the purpose of your event or your strategic events program will make your selections so much easier. Ask yourself why do you want to gather people in a virtual way? Is there a reason that you want to have this event? What is that reason and what is your belief the eventual outcome?
When you focus on the purpose, and really drill down to the reasons why you want to meet, you'll naturally bring out what is important to you. Finding the purpose can help you narrow down the choices of platforms that you have available to you. Find your purpose first, then focus on your platform.
What tools do I already have at my disposal?
Start where you are. If you are in an organization, you might find that you already have virtual platforms at your disposal. Do a good look around at what you have available to you. You never know what hidden gems you will find.
After doing some searching, many planners find that there are already some tools available that will suit their needs. Or perhaps they are working in partnership with an agency that has platforms available for them to use at a cost. If you don't have any tools available, then you need to take note of what the needs would be for your event so that you have a list to go on as you start your virtual platform search.
What is missing from the tools that are currently in use?
Many times we have tools in our tech stack, but we find that there are features that make up the tool are lacking. Perhaps you need more engagement tools for your audiences. Maybe the tool you have doesn't allow for you to get the data that you need. Whatever is missing from your current platform, take note, as those notes is what you'll need when you go on the look other options.
What can I put in place now for a quick win?
If you have some virtual platforms available to you right now, you might want to consider leveraging what you have in order for you to support your event, as long as it fits your purpose. This will give you a quick win. Leveraging an existing tool also gives you the opportunity to learn the platform and discern how you can continue to leverage the tool. You can also use your experience as a comparison for other platforms that you consider down the road.
How do I level up my tech stack?
In the way that you may look for a physical venue to host your event, a digital platform search is quite similar. Be on the lookout for platforms that may fit your audience. Look at demos from the platform provider and take an evaluation in comparison to your needs on if it can work for you. You can also ask others their review of the tool you are looking to consider. Attend industry events, where you might have exposure to certain platforms and can see them in action. One helpful tool that can bring some immediate insight is the Event Tech Guide by Event Manager Blog. This guide gives a very robust comparison of many of the digital platforms and is a great start if you want to level up.
Instead of being burdened with the search of new digital platforms in a sea of many, take a deep breath, and align with the purpose of your event. Look at the tools you have immediately available to you, make a list of your optimal scenario, and begin working towards that end. This will help give you some relief and confidence that you are on the right track.